Call for Artists: HoliDaze Market in Des Moines - 4 days to deadline!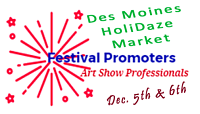 December 5 & 6
Des Moines, Iowa
Iowa Events Center
Saturday 10am-6pm & Sunday 10am-4pm
80 artists
Deadline: September 28
Application fee: $30  Booth fee: $275-$500
What a great way to get ready for the Christmas holiday! The Des Moines HoliDaze Market is the only large Christmas event in central Iowa with 80 Artists and vendors selling art and perfect gifts for the holiday season.


Highlights:
Set-up the day before from 12pm to 7pm

All spaces are 10' x 10' corner booths to maximize social distancing

Electricity available at no fee

Artist amenities include:




on-site security, daily continental breakfast, continuous beverages and snacks available at Artist Hospitality Room

In-depth Artist Directory on the Fair's website with an enlargeable color thumbnail of your work. Your contact information and links are also included
Should we find it necessary to cancel any show because of government regulation or government health guidelines, for shows you applied for and were accepted into, we will immediately refund both jury and booth fees you paid for the cancelled show.