Presented by Manayunk Development Corporation
Saturday 11am-7pm & Sunday 11am-6pm
Application fee: $30   Booth fee: $495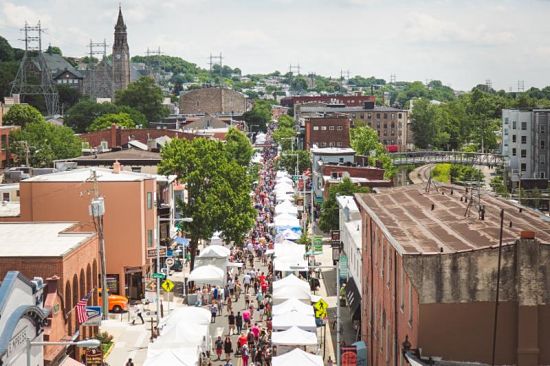 E
ach year we receive an exciting and unique pool of artisans and our jury is faced with the challenge of selecting 300 artists from an annually increasing application pool. We thank you for your interest in our show and look forward to seeing the art that is submitted!
Named a National Historic District in 1983 and a Classic Town by The Delaware Valley Regional Planning Commission in 2007, Manayunk is centrally located just 15 minutes from Center City Philadelphia, King of Prussia, Chestnut Hill, and The Main Line. Nestled along the banks of the Schuylkill River and the Manayunk Canal and Tow Path, the commercial district is lined with renovated Victorian storefronts and mill buildings giving you an urban experience with small town charm.
Ten notable jurors will examine one category at a time. They will have a round table discussion for each piece of art work submitted, assess the work, and individually score it. Artists are reviewed on many different criteria including: medium, quality, creation process, uniqueness, price point, booth display & signage, and overall presentation of work.