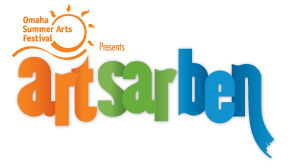 September 28 & 29
Omaha, Nebraska
Aksarben Village/37th and Center
Sat. 10am-7pm
Sun. 10am-4pm
80 Artists
Deadline: June 1


ARTsarben is a high quality, juried fine artshow that features the work of 80 artists in a variety of 2D and 3D media.  The show features traditional fine art as well as fine crafts including offbeat, creative and assemblage artwork that attracts buyers of every age group. In its first year (2012), ARTsarben drew more than 20,000 attendees over the two days.
Noteworthy:
Affluent Shoppers
Mixed-use Urban Lifestyle Setting
Established Neighborhood
Multi-use Park and Amphitheater 
Free and Convenient Parking
Jury/Booth Fees: $30/$300
Electricity is available for an extra fee of $75
Aksarben Village is a $300 million development that combines retail, restaurants, entertainment, 
residential and hotels to offer an exciting planned urban community in the heart of Omaha.

For more information about the Aksarben Village area, please visit: www.aksarbenvillage.com  
Established art fair presenters, the Omaha Summer ArtsFestival and Vic Gutman & Associates are proud to partner to present this fall event.  For more information, click on the appropriate links below, or contact Emily Peklo at epekio@vegagroup.com with your questions. Or call her at (402)345-5401 ext. 106 .
Now Accepting Applications: www.Zapplication.org 
Search "Participating Shows" Tab for: ARTsarben-2nd Annual-Produced by the Omaha Summer Arts Festival
~~~~~~~~~~~~~~~~~~~~~~~~~~~
Find more fine art fairs for your 2013 schedule: www.CallsforArtists.com